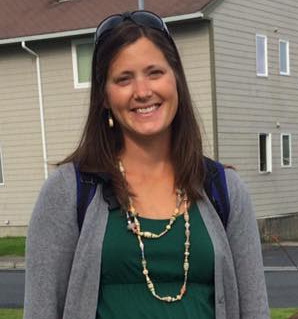 hevukelic@alaska.edu
802-884-3434
Natural Sciences
Adjunct Instructor
---
Biography
My name is Heather Riley. I grew up in a small town along the Ohio River and then moved to South Carolina where I earned a B.S. in Marine Science and Biology (Coastal Carolina University). I moved to Texas and then Alaska to pursue my interest in the field of marine mammal science. I received my M.S. in Marine Biology from the University of Alaska Fairbanks in 2010. My thesis research focused on the numbers and distribution of humpback whales utilizing the Eastern Aleutian Islands. Over the years I have spent time working in the waters of southeast Alaska, the Gulf of Alaska, Prince William Sound, the Aleutian Islands, and the Bering Sea on different marine mammal projects (varying agencies).

I love teaching, outreach education, and learning. I have taught at the collegiate level for several years in North Carolina and am
excited now to teach online courses through Kodiak College.

I LOVE living in Alaska and while I've only been in Kodiak for less than a year, this is my ninth year living in this beautiful state (I
previously lived in Sitka and Fairbanks). I have a sign hanging in my home that says: "Alaska doesn't just get under your skin, it makes you UNFIT to live anywhere else."

I look forward to meeting you and being a part of your academic journey!
---
Education
BS in Marine Science and Biology from Coastal Carolina University
MS in Marine Biology from University of Alaska Fairbanks