High School Students
Take classes at Kodiak College!
We would love to talk to you about options for earning college credit while you are in high school! To get started, fill out the High School Student Entry Form and an advisor will contact you within 2 business days to set up a time to meet and discuss the registration process with you.
High School Student Entry Form
High school students who have never taken classes with the University of Alaska will need to apply for admission as non-degree seeking student by going to UAOnline and creating a student account. Students can register for classes during the open registration period each semester as long as they have submitted the Student/Parent Agreement indicating that they understand registration process and the implications of creating a permanent academic record with UA.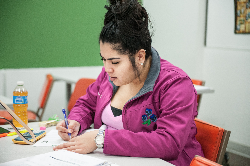 All high school students should learn about JumpStart, a college success program offering reduced tuition for high school students!
Students who wish to be part of the JumpStart program have additional requirements, including taking a placement test, and attending New Student Orientation. Contact Student Services at (907) 486-1266 or studentservices@koc.alaska.edu for more information and if assistance as needed.