AAS, Computer Information & Office Systems (CIOS)
The CIOS program mission is to promote student success and lifelong learning by providing relevant academic education and technical skills for administrative professionals to meet Alaska's business and industry needs.
For more information or advising contact Heather Corriere
hcorriere@alaska.edu
Office Phone: 907-486-1212
AAS in CIOS Program Outcomes
Upon completion of the AAS in CIOS, graduates will:
Demonstrate keyboarding skills of 40 net words per minute
Integrate intermediate skills that utilize advanced features in operating systems; word processing, spreadsheet, presentation, and database software
Demonstrate oral and written communications skills that meet business standards
Apply critical thinking skills to make effective decisions and solve problems
Demonstrate professional behavior and interpersonal skills
Demonstrate information retrieval, management, and distribution skills
Office Foundations OEC (9 credits)
CIOS 101A Keyboarding A
CIOS A113 Operating Systems: MS Windows
CIOS 130A Word Processing I: MS Word
CIOS 135A Spreadsheets I: MS Excel
CIOS 146 Internet Concepts and Applications
CIOS 160A Proofreading (Proof of placement in ENGL 111 or concurrent enrollment)
CNT 165 Customer Service Fundamentals
Office Support OEC (13 credits)
CIOS 101B Keyboarding B
CIOS 101C Keyboarding C
CIOS A115 10-Key for Business Calculations
CIOS 125A Electronic Communications I: MS Outlook
CIOS 140A Databases I: MS Access
CIOS 150A Presentations: MS PowerPoint
CIOS 164 Filing
CIOS 165 Office Procedures
CIOS 259 Preparing Electronic Documents: Adobe Acrobat
Major Requirements
CIOS 102 Keyboarding Skill Building
CIOS 235A Spreadsheets II: MS Excel
CIOS 240A Databases II: MS Access
CIOS 230A Word Processing II: MS Word
CIOS 262A Professional Development
CIOS 264A Records Management
CIOS 265 Office Management
Choose: ACCT 101 Principles of Financial Accounting I, 120 Bookkeeping for Business I or 201 Principles of Financial Accounting
Choose: CIOS 261A Interpersonal Skills in Organizations or PSY 153 Human Relations
Choose 1-3 Credits from: CIOS 295 Office Internship or CIOS 276A Independent Project
General Education Requirements (15 credits)
ENGL 111 Methods of Written Communication
Choose: CIOS 260A Business Communication or ENGL 212 Technical Writing
Choose: COMM 111Fundamentals of Oral Communication, 235 Small Group Communication, 237 Interpersonal Communication or 241Public Speaking
GER Electives: Select 6 credits from Humanities, Math, Natural Sciences or Social Sciences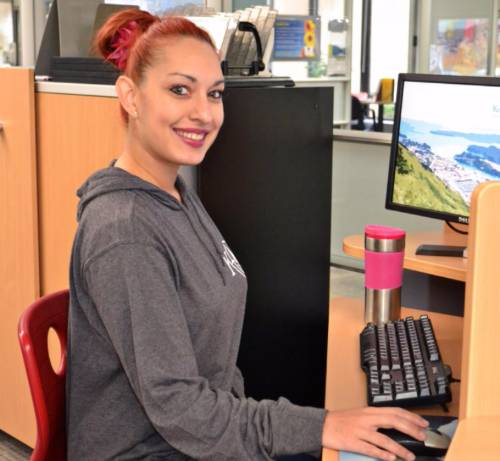 Skills
The AAS in Computer Information and Office Systems prepares students for positions in any office setting. The program helps students develop and refine lifelong learning skills that allows for flexible career path options and builds confidence to adapt to new technological demands in any workplace.
Earning Potential
Administrative assistants in Alaska earn an average of $25/hour.*
Job Outlook
Job openings will result from the need to replace workers who leave the occupation. Those with a combination of work experience and computer skills should have the best job prospects.
*Alaska Department of Labor and Workforce Development
For more information or advising contact Heather Corriere
hcorriere@alaska.edu