OEC in Office Foundations
The Occupational Endorsement Certificate in Office Foundations provides the foundational skills required for career entry in a variety of office settings.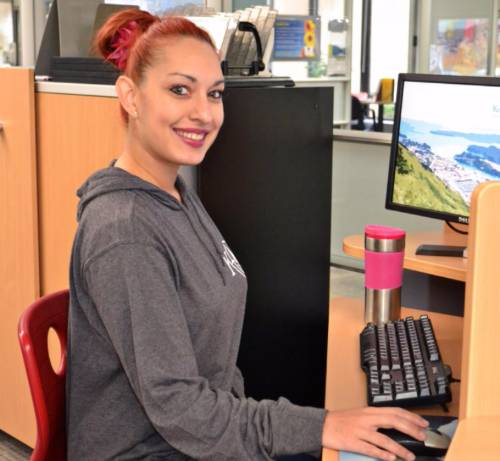 For more information or advising contact Heather Corriere.
hlcorriere@alaska.edu
Office phone: 907-486-1212
Upon completion of this OEC, students will demonstrate:
Keyboarding skills of 40 net words per minute.
Intermediate skills in word processing and business document formatting.
Entry-level skills in spreadsheets, databases, presentations, and electronic communication.
Customer service skills.
Knowledge of proper grammar and mechanics used in writing business documents.
Basic math and 10-key calculator operations.
Entry level skills in file organizational and management.
All students must take the following basic computer skills courses or possess equivalent knowledge. Students may take a test to prove proficiency in these areas. Beginning computer users should start with the basic skills courses.
CIOS 101A

Keyboarding A--1 credit

CIOS A113

Operating Systems: MS Windows--1 credit

CIOS 130A

Word Processing I: MS Word--1 credit

CIOS 135A

Spreadsheets I: MS Excel--1 credit

CIOS 146

Internet Concepts and Applications--2 credits
Office Foundations OEC (16 credits)
This OEC is the foundation for the Office Support OEC.
CIOS A101B

Keyboarding B: Business Documents I--1 credit

CIOS A101C

Keyboarding C: Business Documents II--1 credit

CIOS A115

10-key for Business Calculations--2 credits

CIOS A125

Electronic Communications I: MS Outlook--1 credit

CIOS A140

Databases I MS Access--1 credit

CIOS A150A

Presentations: MS PowerPoint--1 credit

CIOS A161A

Business Writing Strategies--2 credits

CIOS A165

Office Procedures--3 credits

CIOS A230

Word Processing II: MS Word--1 credit
Advisor approved electives--3 credits
This certificate prepares you for entry level office positions and is the basis of the other CIOS certificates.
Skills
Drafting correspondence
Entering data in spreadsheets
Scheduling appointments
Organizing and maintaining paper and electronic files
Earning Potential
The average wage for an administrative professional is $15-$18 per hour.
Job Outlook
This field has high employment opportunities.
For more information or advising contact Heather Corriere.
hlcorriere@alaska.edu
Office phone: 907-486-1212