COVID-19 Information
Kodiak College continues to function primarily via alternate course delivery, remote work, and controlled access to campus facilities. Campus services are available virtually and face-to-face by appointment. Please contact us if you have any questions. Learn more about UAA's COVID-19 response.
High School Students
Take classes at Kodiak College!
High school students who have never taken classes with the University of Alaska will need to apply for admission as non-degree seeking student by going to UAOnline and creating a student account. Students can register for classes during the open registration period each semester as long as they have submitted the Student/Parent Agreement indicating that they understand registration process and the implications of creating a permanent academic record with UA. We strongly recommend that high school students and families seek academic advising prior to registration by filling out a High School Student Entry Form. After you submit the form, Kodiak College staff will be in touch to set up a time to discuss your academic goals and the registration process.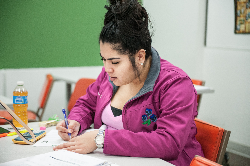 All high school students should learn about JumpStart, a college success program offering reduced tuition for high school students!
Students who wish to be part of the JumpStart program have additional requirements, including academic advising, taking a placement test, and attending New Student Orientation. Fill out the High School Student Entry Form to request academic advising. Or, contact Student Services at (907) 486-1266 or studentservices@koc.alaska.edu for more information or assistance as needed.