Spotlight
Meet Kathrynn Hollis-Buchanan
Look up the phrase "wears many hats" in a dictionary of idioms, and you might find a photo of Kathrynn Hollis-Buchanan. She may even be wearing a hat she knit herself. She's an Associate Professor of Business and Accounting at Kodiak College, as well as being the student government advisor and chairing the Showcase of Excellence. She's also the director of Young Life, substitute teaches for the Kodiak School District, runs CPR and First Aid training, owns Bella Bronze Body Spa, and sits on three boards--KMXT, LEPC, and the Island Grad Project. She does bookkeeping on the side.
"I don't say no very easily. I feel bad when things or people or students aren't getting served."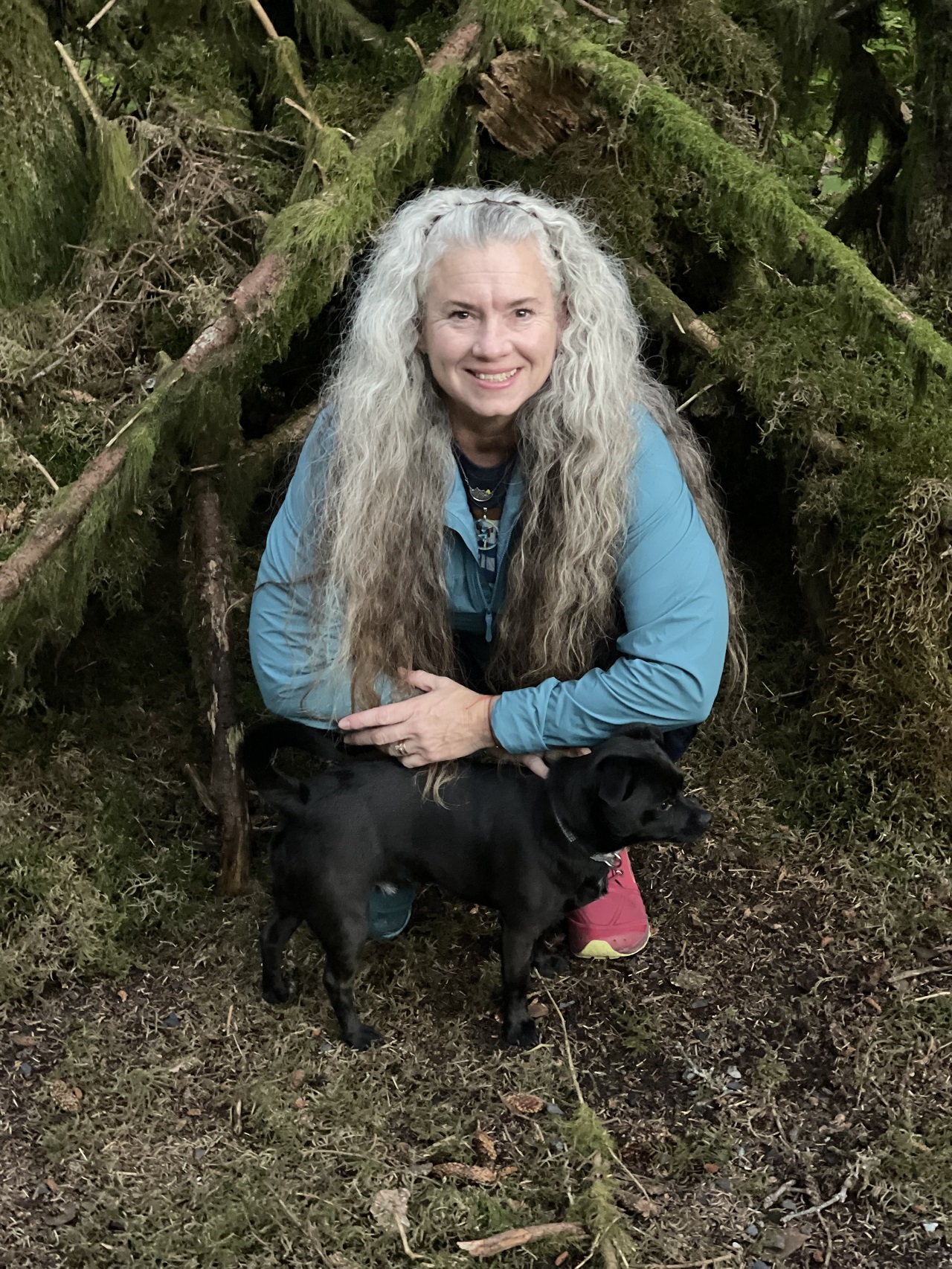 Her favorite quote is "If you give, you begin to live," from a Dave Matthews' song. (More on Dave later). Mentoring and volunteering with youth are a big part of Kathrynn's life because she didn't have that growing up. She supported herself beginning at the age of 15, so she knows what it's like for college students juggling school and work and family. She worked several jobs throughout college to pay for tuition, and faced setbacks like losing all but 12 credits she'd earned towards her associate's degree when she transferred schools.
"I always tell my students, 'You just have to make priorities. If you really want something, you're going to do it."
As an instructor, her strengths include teaching to a variety of learning styles--using combinations of audio, video, and written lessons, and a willingness to try new technology and to make changes if that technology isn't working. She also draws from her 24 years of experience as a healthcare administrator when teaching business courses.
It was a job in that field that first brought her to Kodiak, although she never expected to make a life in Alaska. "In fact, when we lived in Oregon and I told my husband that I had an interview up here at the hospital, he said, 'You don't even like Seattle weather, you're going to hate it there!' I said 'I can do anything for 3 years.''' That was 13 years ago.
One of Kathrynn's favorite things about Kodiak is hiking, a love she only discovered a few years ago. She wishes she'd known earlier how much she'd enjoy it. This summer she completed the Adjust your Altitude hiking challenge of climbing 7 mountains around the island. Part of the AYA challenge involves taking and posting a photo from the top. Kathrynn decided to take hers doing the splits on each peak, which meant hiking several mountains twice because she forgot the splits the first time.
"The only thing I can do fancy is the splits. Fancy is me," she says, which fits with her sequined mask, glittery eyeshadow and sparkly boots.
It took her eight attempts to complete the North Sister hike because of the steep narrow summit. "The North Sister was my
nemesis. I'd get up to the really skinny part at the very top and I'd always freak out right there and want to stop. I can always think of 10 reasons why I shouldn't do this--a little bit of wind or I feel tired or I'm dizzy or I don't know, there's one million reasons not to." She made a video of the hike to celebrate finally conquering the mountain. She swore she wouldn't climb it again, but she's already changed her mind.
Her favorite mountaintop snack is a PB&J and animal crackers. (A random fact about Kathrynn is that she doesn't like fruit or vegetables--she won't eat anything with seeds or skin). And unlike most of us, she hikes with the hope of running into bears. She seeks them out.
"I'll go hiking in the dark at Abercrombie with a headlamp when I hear there's a bear there. Maybe it's like rollercoasters for some people, I get an adrenaline rush when I can see a bear's eyes in the dark. I don't have a death wish, I promise!"
She plays Dave Matthews while she's hiking and credits that with keeping bears away, "Bears don't like it, they never bother me." Her ankle is newly tattooed with a fire dancer—the Dave Matthews Band symbol.
"If I love something," she says, "I really love it." The most used app on her phone is DMB hub, as in Dave Matthews Band, which updates with the set lists of concerts in real time. Dave is the passcode on her cellphone. The band's name is her personalized license plate. She recently returned from their concert at the Gorge Amphitheater in Washington, twenty years to the day of a failed attempt to see them at the same venue. At that concert, she was pregnant and too nauseous to handle fellow concert goers' smoking and drinking. She missed the whole show and spent the evening lying down in the car. Next year she and her husband plan to go to all three days of the Labor Dave Weekend concerts.
The tattoo on her other ankle is a paw print in memory of a beloved dog she credits with saving her life nine years ago.
Kathrynn had fallen into a hole in the Buskin River while fishing in oversized chest waders. The boots filled with water and held her down. Her dog, Lolly, swam out as the waders were filling with water, and Kathrynn was able to grab Lolly's collar and the dog pulled her to shore. The rescue story made the Kodiak Daily Mirror, and is one that Kathrynn shares when teaching CPR and First Aid courses. "When I was under the water I was telling myself, I know exactly what to do and what not to do, but I couldn't make myself do it. The good thing that came from that experience is I can tell people what it's really like when your body is not in tune with your brain, when you're in fight or flight mode." She fishes from the river banks now, instead of in the water. And when she's out adventuring, she always has her hiking buddies, Boris, Belle, and Sail.
As for future plans, she says, "I'm happy doing what I'm doing. I like to keep learning and taking classes, and I'm just already looking forward to the next hiking season."