Meet Cindy Trussell
Cindy Trussell, Ph.D., the Department Chair of Natural Sciences at Kodiak College, is beloved by her students. Also by her puppy, Gertie, a Portuguese water dog who looks like it just bounded off the set of The Muppet Show, and who led our interview walk around Abercrombie Park. Aside from all the dog walks, Cindy spends a lot of time outdoors. She's an avid birder, especially since her 2020 Big Year (a year in which birders attempt to identify as many species as possible). Much of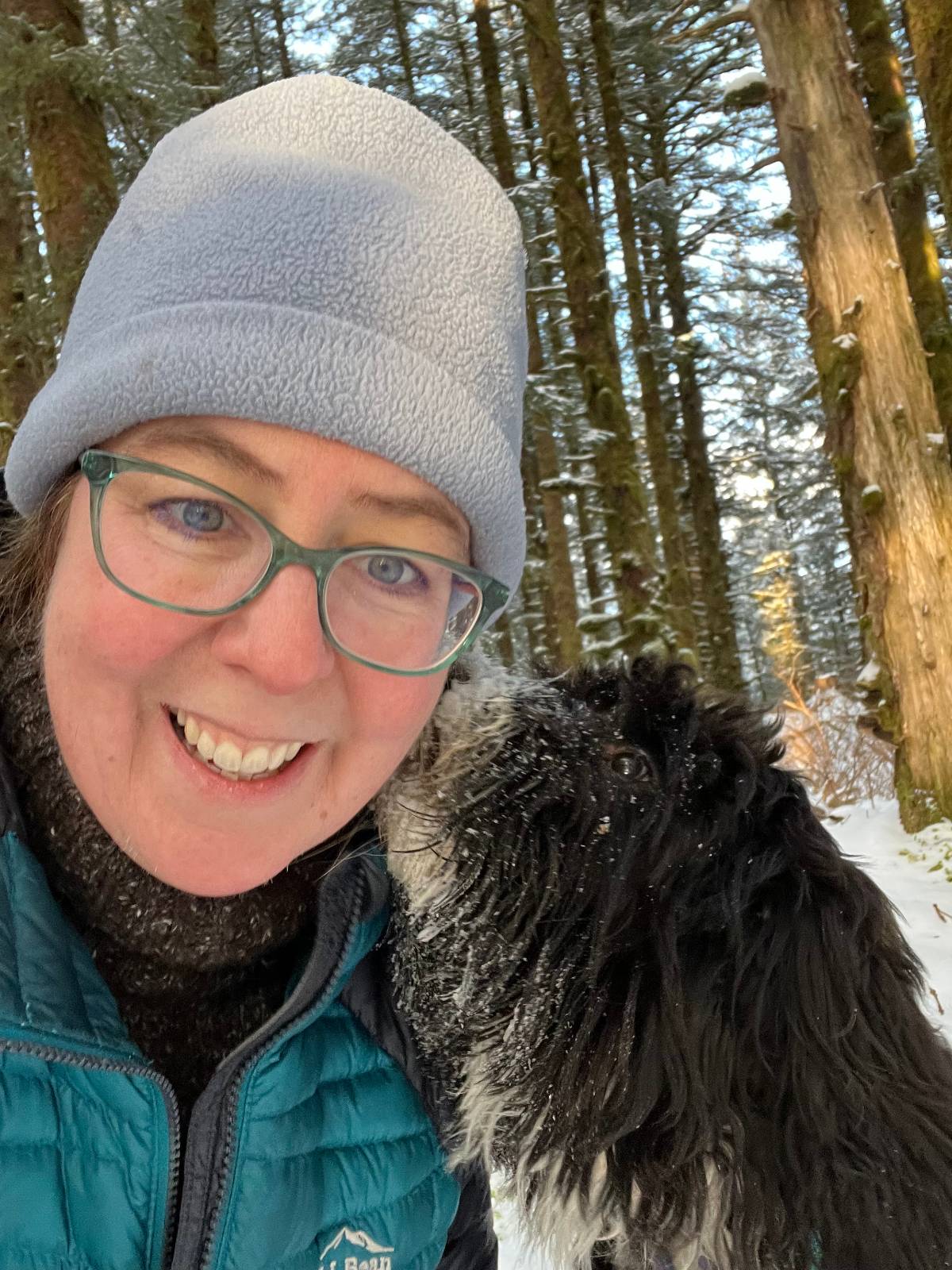 her service work involves birds. As president of Kodiak Audubon, she helps with their annual Christmas Bird Count, sometimes in really terrible weather. This year there were gusts to 60mph on the day of the Chiniak count. She volunteers at a MAPS station, banding birds for a citizen science conservation project. And, as a volunteer with Alaska Land Bird Surveys, she has flown to Uganik Island multiple summers—to hike (and climb and crawl) through brush, willow, and alders listening and counting the number of bird species there. She also teaches a popular local birding class.
Kodiak's natural environment is part of what drew her to the island in 2005. When she first visited, "Kodiak won us over pretty easily. It was instantly open and friendly and nice. Where do you go where people are hugging you and you've never even been there before? There were all these overtly friendly and comfortable things," she said.
Kodiak College was appealing because it had a small faculty and "a fantastic mixture of students," she says. "The adult students who are juggling school with kids and work, will tell traditional-aged students, 'If I can do this, you can do this.' You have those different experiences that they bring to the classroom. Kodiak students just really won me over."
An opportunity she shares with current students is one that stems partially from the pandemic. "To start almost any degree program is something that is now available from here. So, you could try many things that we don't offer, you can at least start that path," she says. "Talk to an appropriate faculty member and see if it's for you without having to incur room and board and
all those costs potentially."
Additionally, she advises students to "Talk to fellow students going through the same program, who are at different points, and find out what they've done and what they recommend. Talk to faculty, and talk to an academic advisor to get a decent academic trajectory. And keep your coursework manageable so that you continually have a feeling of—I can do this—rather than pushing yourself so hard that you get overwhelmed. So what if it takes an extra 6 months or an extra year? Better to get the good grades the first time through and not have to retake something."
Talking to professors, as well as an openness to new experiences and learning, shaped and influenced her own educational path. As a kid, she thought she'd be an architect. She loved perusing the house plans that her dad, an electrical contractor, brought home. In high school she did an architecture summer study at the University of Michigan, and even put together a portfolio. But her senior year she decided to major in physics instead. She excelled in math and science.
Then she studied abroad in Adelaide, Australia, and wound up taking all of her science classes there, including an Introduction to Biology course team-taught by professors in different disciplines. "Everybody who was teaching made it fun and super exciting. It was fantastic," she said. Those classes led her to switch to a biology major. She tacked on marine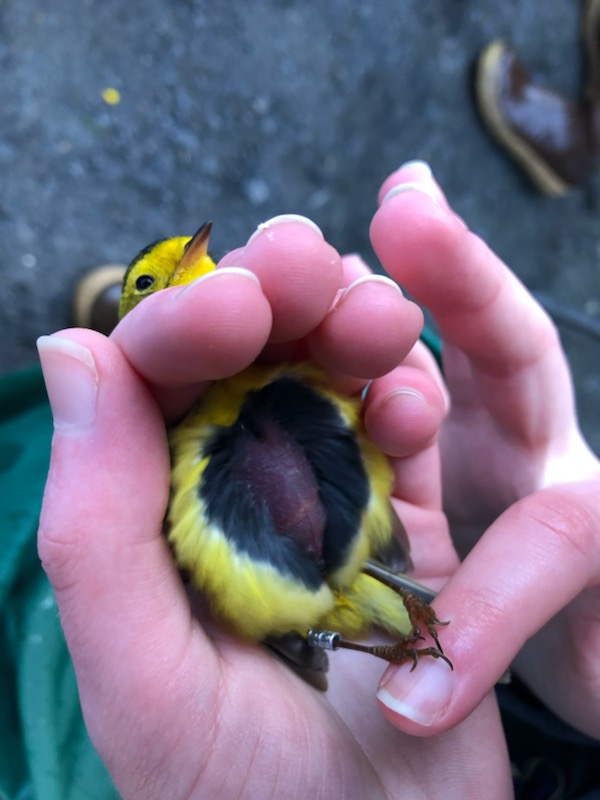 science because the University of Miami had a strong marine science program, not because she was ever crazy about dolphins or anything like that, she says. She also knew that she wanted to do a senior thesis project, so after talking through options with five different professors, she chose a project studying the Boat-tailed grackle.
"I knew nothing about birds at the time. In fact, it's so disappointing that that happened after my year in Australia. All of the birds I could have seen—the Superb fairywren, all the different parrots, I paid zero attention to them."
She graduated with a double major in marine science and biology, and a minor in chemistry and math. But she wasn't sure what she wanted to do next, so she worked for a year as a bank teller. Today she could be counting money instead of counting bacterial colonies and butter clams in the lab, except that graduate school was always in the back of her mind. That same year she studied for the GRE and did field work in western Pennsylvania.
Seven years later, she'd earned a PhD from UNC Chapel Hill, studying duetting in Carolina wrens. She was offered a January Term teaching position at Elon, a liberal arts school near Chapel Hill.
"It was the combination of learning things in the field that you love, and then being able to create fun things for the students. That's what got me to knowing that teaching is fun for me."
Fitting a course like Current Topics in Biology into a three-week course forced a creative mindset, she said, because there just isn't time for the traditional regular semester format. The folks at Elon were all innovative teachers, so they encouraged that. She loved every minute of it.
"And I started my time here in Kodiak by going to the Annual National Summer Institute on Learning Communities at Evergreen State College in Washington with the whole Kodiak College faculty. I was hired in May and we all went in June, before I'd even moved here," she said. "At the start of my career, I got inspired by all these early experiences that encouraged me to try and do fun and different things to make it better for students."
Another of Cindy's strengths is in finding ways to incorporate relevant, relatable material into her classes in hands-on ways. For instance, students might test local clams for PSP in microbiology, or compare weather conditions and variability using a
series of remote environmental learning stations around the island for environmental science. She also excels at using technology and teaching online. Her sabbatical in 2016 included workshops and classes in photoshop, digital storytelling and video editing to incorporate into future courses.
"I like taking technology, thinking about how you can best use it, and using it effectively," she says.
The app she uses most on her phone is Ebird. "Or my To Do list. Or the weather app."
A book she recommends is "The Song of the Dodo, because it teaches you about extinction and about island biogeography. If you want to read something in science, and enjoy it, then any book by David Quammen. If you're reading for fun, then The Outlander series."
The birds in her binoculars were once duetting mustached wrens in Peru. Now she might set up a scope to see species along Kodiak's road system, like the Northern Hawk Owl that she once searched for around Boyscout Lake, only to spot it perched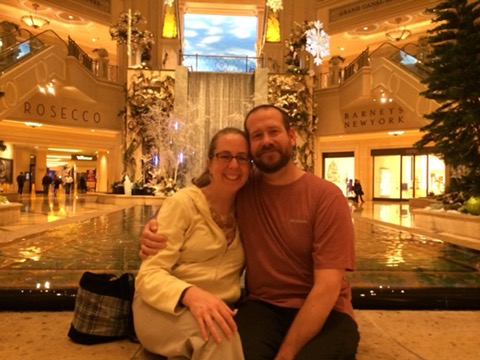 on a road sign on the way home. She'll likely add to her birding life list this summer, when she and her husband Mike plan to drive across Canada to New Hampshire, where Cindy grew up. They also have travel dreams of watching the 2023 World Cup in Australia and New Zealand. Or of traveling back to the Burgundy region of France.
That makes the Trussells sound like vagabonds, but they did just fine being homebound through the Covid-19 shutdown—reading, cooking, quilting, knitting, working on puzzles by a blazing woodstove.
Cindy and Mike both work at Kodiak College. Luckily, she says, "We genuinely like each other. We spend a lot of time together. We also spend time apart. We're not necessarily interested in the same things, but when we're both home at the end of the day we absolutely talk, either current events or that sort of stuff, or about work. It's lovely. Or sometimes you get to argue, and that's really fun too."
Something you might not have guessed about Cindy, (she's one of the smiliest people I know), is that she's actually quite competitive. She's in a continual cribbage battle with her mom online, and when Cindy brought her puppy Gertie home last summer, she laughs that she lost every game because she was so tired and distracted. Her mom was up 16 games to 2. But as of Christmas break, Cindy was only two games away from an even number of wins for 2021.
She even started a distance baking challenge with her family during the pandemic, beginning with yule logs and continuing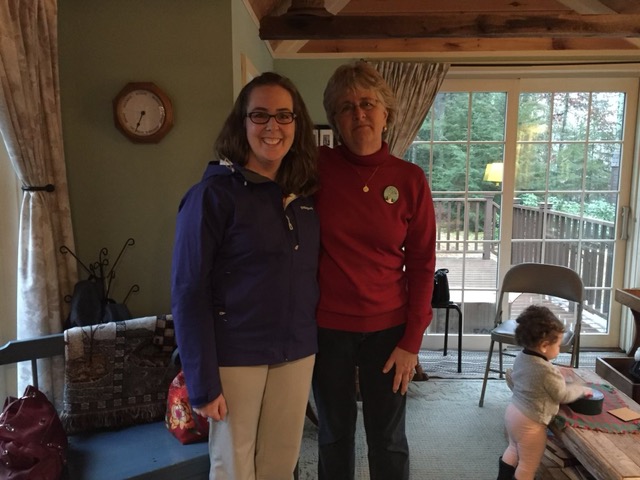 each month over Zoom, with a winner decided on by taste testers and a rubric (designed by Cindy). Her favorite challenge was learning to laminate dough for danishes in February, (even though she failed at it when she accidentally doubled the butter in the recipe), because she learned a skill that she wouldn't have otherwise taken the time for. That spirit of curiosity and a genuine love for learning—about her students, about developments in the science field, or about new technology—is a big part of what makes Cindy such an inspiring professor.