COVID-19 Information
Kodiak College is open to provide services for students. Masks are required in all KoC facilities and classrooms.  Campus services are available virtually and face-to-face.. Please contact us if you have any questions. Learn more about UAA's COVID-19 response. 
Campus Map
Take a tour of the Kodiak College Campus
We also have an accessible version of the tour
KoC virtual campus tour
Campus Map
Benny Benson Building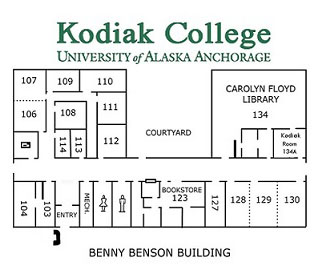 Technology Center
Campus Center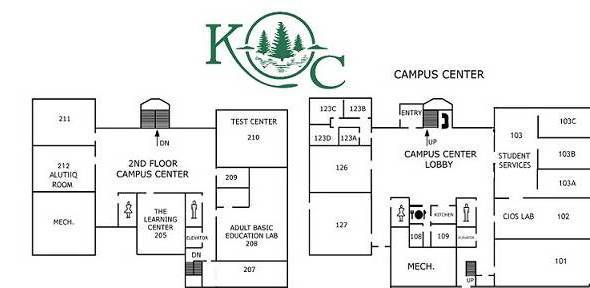 Information about the Rooms on Campus for Public Use
Kodiak College offers rental of the facilities to the community for both non-profit/government and private/commercial group events. The classrooms of various styles and sizes are available to rent when not in use for academic purposes. Feel free to check out the descriptions on this page that refer to general information about the rooms available.
Benny Benson Building (BBB)
Room

Phase B Max Capacity

Features
BBB 106/107
15
Audio System (Wired), Chairs/Stools, Clock (Wall Mounted), DVD Player, Electrical Outlet, Instructor/Presenter Computer, Microphone (Fixed), Phone (Conference), Projection Screen, Projector (Document), Projector (Video Data), Tables, Television, Video Conference Equipment, Web Conference Equipment, Whiteboard
BBB 108 (Nurses' Room)
7
Chairs/Stools, Clock (Wall Mounted), DVD Player, Electrical Outlet, Instructor/Presenter Computer, Phone (Conference), Tables, Television, Video Conference Equipment, Web Conference Equipment, Whiteboard (Available Only by Special Request)

BBB 109

(Nurses' lab)

7
Practice lab.
BBB 110
7
Projector (Document); Lectern/Podium (w/ Data Connections); Clock (Wall Mounted); Instructor/Presenter Computer; Chairs/Stools; Computers; Projection Screen; Audio System (Wired); Tables; Projector (Video Data); Whiteboard
BBB 111
2
Projector (Document); Clock (Wall Mounted); Instructor/Presenter Computer; Chairs/Stools; Computers; Projection Screen; Audio System (Wired); Tables; Projector (Video Data); Whiteboard; Flight Simulator
BBB 112
7
Features: Chairs/Stools, Instructor/Presenter Computer, Projection Screen, Projector (Document), Projector (Video Data), Smart Board, Tables, Whiteboard
BBB 128
7
Features: Chairs/Stools, Tables, Whiteboard, Instructor/Presenter Computer, Projection Screen, Projector (Document), Projector (Video Data)
BBB 129
6
Features: Chairs/Stools, Tables, Whiteboard, Instructor/Presenter Computer, Projection Screen, Projector (Document), Projector (Video Data)
BBB 130
5
Features: Chairs/Stools, Tables, Whiteboard, Instructor/Presenter Computer, Projection Screen, Projector (Document), Projector (Video Data)
BBB 134 (Carolyn Floyd Library)
Not Available for Reservation
BBB 134A (Kodiak Room)

3

Web Conference Equipment; Clock (Wall Mounted); Video Conference Equipment; Phone (Conference); Chairs/Stools; Computers; Adjustable Lighting; DVD Player; Network Port; Electrical Outlet; Audio System (Wireless Mic Capable); Audio System (Wired); Television; Projector (Video Data)
Campus Center (CC)
Room
Max Capacity
Features
CC 101
9
Adjustable Lighting, Audio System (Wired), Chairs/Stools, Clock (Wall Mounted), Computers, Electrical Outlet, Handicap Station, Instructor/Presenter Computer, Network Port, Phone (Conference), Printer, Projection Screen, Projector (Video Data), Tables (Fixed), Video Conference Equipment, Web Conference Equipment, Whiteboard
CC 102 (CIOS Lab)
6
Adjustable Lighting, Clock (Wall Mounted), Computers, Handicap Station, Network Port, Printer, Tables (available by special request only)
CC 126
12
18 desktop stations,

Adjustable Lighting, Chairs/Stools, Clock (Wall Mounted), Computers, Electrical Outlet, Handicap Station, Instructor/Presenter Computer, Network Port, Phone (Conference), Printer, Projection Screen, Projector (Video Data), Tables (Fixed), Video Conference Equipment, Web Conference Equipment, Whiteboard

CC 127
11
Stadium Seating, Clock (Wall Mounted), Presenter Computer, Electrical Outlet, Whiteboard
CC 205 (Second Floor) The Learning Center
8
Not Available for Reservation
CC 208 (Second Floor) Adult Basic Ed.
5
Not Available for Reservation
CC 210 (Second Floor) Testing Center
5
Not Available for Reservation
CC 211 (Second Floor)
10
Clock (Wall Mounted), Instructor/Presenter Computer, Electrical Outlet, Whiteboard
CC 212 (Second Floor) The Alutiiq Room
6
Web Conference Equipment; Clock (Wall Mounted); Video Conference Equipment; Phone (Conference); Chairs/Stools; Computers; Adjustable Lighting; DVD Player; Network Port; Electrical Outlet; Audio System (Wireless Mic Capable); Audio System (Wired); Television; Projector (Video Data)
Technology Center (TC)
| | | |
| --- | --- | --- |
| Room | Max Capacity | Features |
| TC 101 Wood Shop | Special Request | Chairs/Stools, Electrical Outlet, Phone (Conference), Sink, Television, Whiteboard |
| TC 101A | 5 | Chairs/Stools, Lectern/Podium (w/ Data Connections), Tables, Television, Whiteboard |
| TC 102 Art Room | 9 | Chairs/Stools, Sink, Tables, Television, VCR Player, Whiteboard |
| TC 103 Diesel Shop | Special Request | No Carpet, Floor Drain |
| TC 112 Design Center | 2 | Audio System (Wired), Chairs/Stools, Computers, DVD Player, Electrical Outlet, Phone (Conference), Tables, Television, VCR, Video Conference Equipment, Web Conference Equipment |
| TC 130 Science Lab | 12 | Audio System (Wired), Chairs/Stools, Clock (Wall Mounted), Computers, Electrical Outlet, Instructor/Presenter Computer, Lectern/Podium (w/ Data Connections), No Carpet, Projection Screen, Projector (Document), Projector (Video Data), Sink, Tables, Whiteboard |