Kodiak College Scholarships
5 Kodiak Specific Awards
One application to make you eligible for the 5 Kodiak College specific scholarships and up to 200 other scholarships in the UA Foundation system.

Priority deadline is February 15, 2022, but late awards come up throughout the year so it's a good idea to complete this at any point!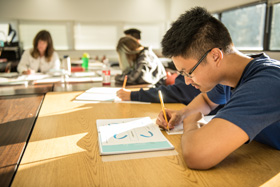 Information about Kodiak College Campus Based Scholarships:
There are 5 UA Foundation Scholarships that are only available to Kodiak College students. Students must be admitted to a Kodiak College degree or certificate program for the following scholarships:
Students in the UAA BS in Nursing, UAA Early Childhood Education, or UAS Elementary Education are also eligible for the:
Susan Thompson Memorial Scholarship

The Susan Thompson Memorial Scholarship provides tuition and other related assistance to University of Alaska Anchorage students residing in Kodiak.

Requirements: must reside in Kodiak, Alaska and be admitted to one of the following programs: any Kodiak College program, or the UAA Associate of Applied Sciences in Nursing, the UAA or UAS BA in Elementary Education, or the UAA BA in Early Childhood Education; enrolled part-time or full-time; minimum GPA of 2.0
First access the UAOnline Scholarship Application* through UAOnline
log in to UA Online
Choose the Financial Aid Tab
Choose Scholarships
Begin the application process in Kaleidoscope.
Tips for success:
Write your essay questions in a word or Google Docs, ensure correct spelling, grammar, and ideally have someone in the Learning Center or Library read your essay questions with you.
For the "Tell us anything else that you would like the scholarship selection committees to consider when evaluating you as a scholarship candidate." do not leave this question blank. How will receiving a scholarship be better than not receiving a scholarship? How will it improve your educational goals? Do you have extenuating financial circumstances?
After you complete your UAOnline application, you also need to complete the Kodiak College Foundation Scholarship supplemental questions also by February 15, 2022
Priority deadline is February 15, 2022, but late awards come up throughout the year so it's a good idea to complete this at any point!
Don't forget to submit your FAFSA
Free Application for Federal Student Aid (FAFSA).
Every student should file a FAFSA each year they attend college because in addition to applying for the Federal Pell Grant, Federal Student Loans and Federal Work-Study, the State of Alaska, the University of Alaska Scholarship Foundation, the Kodiak College scholarship and tuition award committees, many private scholarship agencies use your FAFSA information to determine award offers. These various agencies have different income eligibility requirements, and some awards are non-need based, using only demographic information provided on the FAFSA.
What you need to complete your FAFSA:
1. Your Federal Student Aid (FSA ID) - to electronically file the application
2. The UAA (Kodiak College) School Code - 011462
3. FAFSA requires your 2020 tax returns for the 2022-2023 academic school year - If you have not completed your taxes, you may submit your FAFSA with estimated income and update your FAFSA after your taxes are complete. If you are a dependent student you will also need your parent's tax information and they must apply for a FSA ID to sign the FAFSA along with you (the FAFSA will determine if you are considered dependent or independent according to federal guidelines). Tip: Use the IRS data retrieval tool from within the FAFSA application to import your tax information directly into the FAFSA application. This is the best way to provide tax information
University of Alaska Resources: