COVID-19 Information
Kodiak College continues to function primarily via alternate course delivery, remote work, and controlled access to campus facilities. Campus services are available virtually and face-to-face by appointment. Please contact us if you have any questions. Learn more about UAA's COVID-19 response.
OEC in Alutiiq Language
The Alutiiq Language Occupational Endorsement Certificate (OEC) recognizes the acquisition of Alutiiq language skills and knowledge through certification for professionals and paraprofessionals.
Within the Kodiak region's language revitalization and education programs, a need exists for certified paraprofessionals with Alutiiq language proficiency - and the 16-credit Alutiiq Language Occupational Endorsement Certificate (OEC) is designed to provide a credential in that area. Most of these courses are available by distance delivery.
This program has been defined as a gainful employment program.
Program Student Learning Outcomes
Upon completion of this Occupational Endorsement Certificate, students will be prepared to:
Demonstrate Intermediate speaking proficiency, with conversational speaking skills as described in the ACTFL 2012 proficiency standards.
Read and comprehend basic Alutiiq, including words and sentences pertaining to everyday topics, at a level comparable to their speaking proficiency.
Define and identify measures of language endangerment, describe Alaska Native language relationships, and compare theories of second language acquisition for threatened languages.
Locate and assess Alutiiq language resources and reference materials for diverse situations and proficiency levels.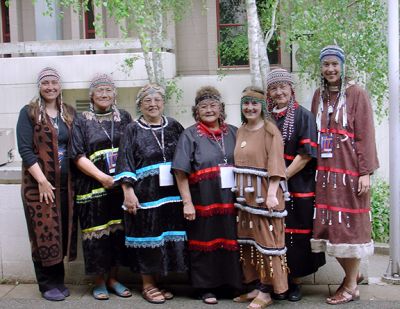 Graduation Requirements for the Alutiiq Language OEC:

Satisfy General University Requirements for Occupational Endorsement Certificates found in the UAA Catalog.
A total of 16 credits are required for the occupational endorsement certificate.
Complete each of the following courses with a grade of C or higher:
AKNS A101:

Elementary Alutiiq Language I

AKNS A102:

Elementary Alutiiq Language II

AKNS A109:

Alutiiq Orthography

AKNS A292:

Alaska Native Conversational Fluency Intensive
And choose one of the following:
AKNS A240: Alaska Native Cultural Orientation - Alutiiq/Sugpiaq
AKNS A292:

Alaska Native Language Apprenticeship
Completion of the Alutiiq Conversational Fluency Intensive course (AKNS A292B) with a C or higher requires a minimum of Intermediate level conversational proficiency, based on the American Council on Teaching of a Foreign Language (ACTFL) oral proficiency assessment conducted at the conclusion of the course. Students who do not attain Intermediate speaking ability may retake the course until successful.
This OEC also satisfies most of the requirements for the Alaska Native Studies (AKNS) minor for baccalaureate students. Speak to your advisor about this option!
This OEC prepares students for employment in language revitalization programs in regional tribes and educational organizations, or qualifies them to apply for "Type M" teaching certification for Alutiiq instruction in the Kodiak Island Borough School District.
This OEC may also be beneficial for teachers and professionals who wish to have a unique credential on their resume, or to better serve the Kodiak Native population.
Some students take the courses in this OEC for personal fulfillment, and to be able to pass along their heritage language to their family and friends.
Alaska Native Studies Minor:
This OEC also satisfies most of the requirements for the Alaska Native Studies (AKNS) minor for baccalaureate students. Speak to your advisor about this option!
Earnings Potential:
Skilled Alutiiq language professionals working in language programs in the Kodiak region can earn $20 hourly or higher, based on other educational qualifications and skills.
Job Outlook:
While the number of positions available full-time for Alutiiq language is small, there is a steady and growing number of jobs in the Kodiak region where Alutiiq language skills would be considered an asset for hiring or promotion.
The following is important information about the educational debt, earnings, and completion rates of students who attended this program.
University of Alaska Anchorage, Kodiak College
OEC in Alutiiq Language
Program Length: 1 year
Program Costs*
$4,047 for in-state tuition and fees
$4,047 for out-of-state tuition and fees
$140 for books and supplies
$13,135 for off-campus room and board
*The amounts shown above include costs for the entire program, assuming normal time to completion.
Note that this information is subject to change.
Information in not available regarding:
Students graduating on time*
Students borrowing money*
Typical graduate debt*
Typical monthly loan payment*
Typical graduate earnings*
Graduates who got jobs*

*Fewer than 10 students enrolled in this program. This number has been withheld to preserve the confidentiality of the students. Note that this information is subject to change.
Program graduates are employed in the following fields:

Foreign Language and Literature Teachers, Postsecondary
Interpreters and Translators
Licensure Requirements
Program has no licensure requirements in any state.
Date Created 6/15/2017
These disclosures are required by the U.S. Department of Education